Global sea freight volume is forecast to grow by 3.4% in 2022
February, 09 2022
Global ocean freight volume has returned to pre-Covid levels and is on track to grow 3.4% this year, according to new data and forecasts from Clarkson Research Services.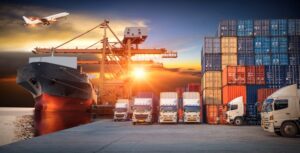 Sea freight volume in 2021 has rebounded to 3.4% in both ton and ton-mile units, with total volume reaching 12 billion tons, back to 2019 levels and back to 400 million tons of ocean freight volume has been "lost" in 2020 to the impact of the pandemic, according to the latest Clarksons weekly report.
For 2022, the UK researcher forecasts a 3.4% increase in sea freight volume (3.9% increase in ton-mile), although trends across commodities will vary.
Not all commodities were recovered, as the chart from Clarksons below shows. One of the important commodities that still needs a long time to return to pre-pandemic levels is crude oil. According to Poten & Partner, demand for this item fell by 5.3% last year compared to 2020.
The tanker market has been in the doldrums for 2021, to explain why, in its latest weekly report, Poten highlighted a drop in demand while the fleet is expanding.
"A reversal of these trends, preferably both at the same time, will be needed to lift the fortunes of the owners of crude oil tankers," Poten suggested.
Source: (Theo Splash247)