Global container capacity dropped by 11.6% in February due to vessel delays
April, 13 2022
The Sea-Intelligence report showed that global fleet capacity fell by 11.6% in February due to vessel delays.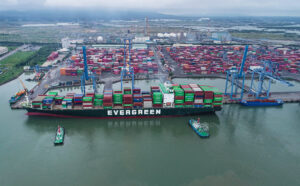 Global shipping capacity reduced due to delay
Sea-Intelligence – Danish data analyst – conducted the study to assess the impact that congestion and ship delays have had on globally deployed vessel capacity.
In January 2022, Sea-Intelligence figures show a record high in reduced vessel capacity, with 13.7% of the world's fleet's capacity unavailable. However, this improved in February, falling to 11.6%.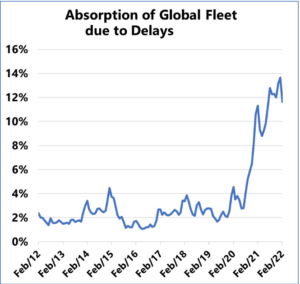 Global fleet capacity fell by 11.6% in February due to delays (Source: Sea-Intelligence, Sunday Spotlight, issue 558)
Sea-Intelligence explains that because average latency has been elevated for quite some time under certain circumstances, there is some data that will only be recorded in next month's Global Liner Performance (GLP) report, so "necessitating retroactive updates to the February data".
This means that the reliability of the schedule for February is likely to be worse than what is currently reported, "as all retroactive updates are for delayed vessels," according to Sea-Intelligence.
Meanwhile, the port congestion index has improved gradually over the past two months in North America, but it is still at a high level.
"We see the same trend for intermodal congestion," says Murphy. In Europe, port congestion has not improved over the past three months and shows no signs of improvement coming."